Known for being a stronghold of Mexico's indigenous peoples and cultures, the state of Oaxaca (pronounced Wa-ha-ka) is located in the country's rugged southwest. A treasure trove of ancient sites, charming mountain villages and sun-kissed beaches, tourist attractions in Oaxaca aren't hard to find, so let's check out the very best of them!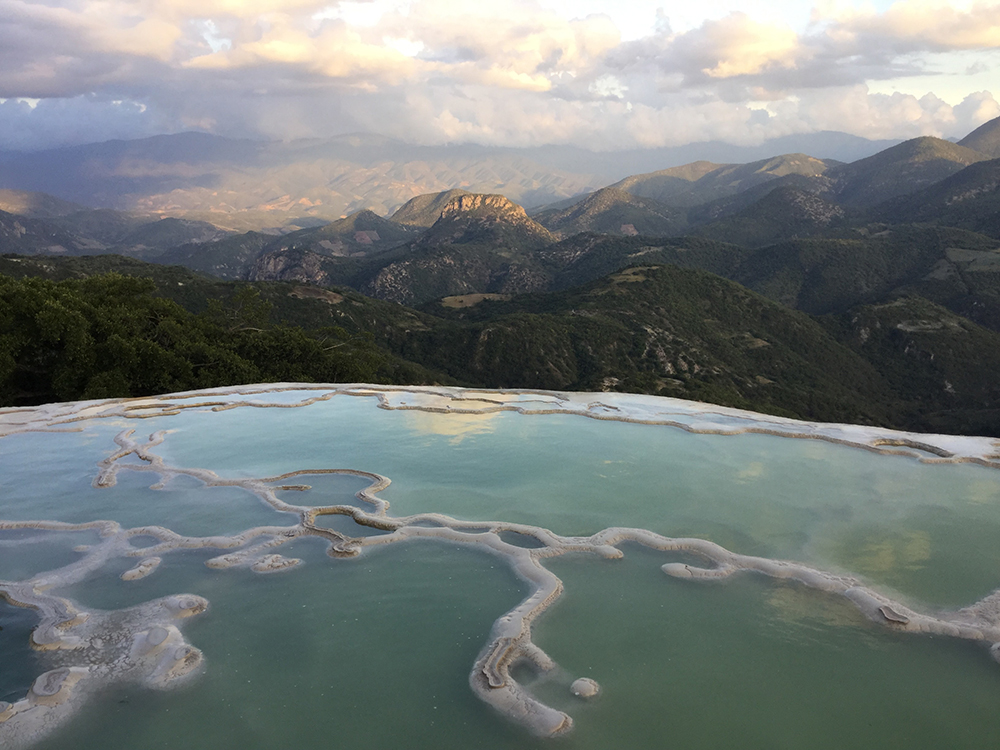 1. Explore the State Capital
Any exploration of Oaxaca de Juárez (more usually known as just Oaxaca City by its residents) should start at the art nouveau bandstand partly hidden by the tree cover of the central square known as the Zócalo. First laid out in 1529, it forms the focal point of this UNESCO World Heritage Site city.
However, one of the top tourist attractions in Oaxaca actually lies a few blocks north. The Temple de Santo Domingo de Guzmán is perhaps the city's finest church. Surrounded by an expansive botanic garden planted with native shrubs, its history as a monastery spans over two centuries, and has ornate interiors that simply should not be missed.
2. Take Some Me Time on the Pacific Coast
With roughly 370 miles of Pacific coast to choose from, the big question is not 'how' but 'where?' Rivalling the beaches of Cancun further north, Puerto Escondido has rightly got a reputation as a haven for anyone looking to soak up some sun or try to find their feet on a surfboard.
If you're looking for a slightly more laid-back vibe, head instead to Huatulco. One of Mexico's newest beach resorts, it boasts secluded bays and relatively quiet sands.
3. Climb the Pyramids of Monte Albán
Just six miles west of Oaxaca City, there's more reason to visit the 'White Mountain' than its proximity alone. In fact, Monte Albán forms one of the most important archeological sites anywhere in Latin America.
Built by the Zapotec from 500 BC onwards, its main plaza is filled with monumental structures that were home to temples and the society's most influential citizens. Other places to look out for include the ballcourts used for a historic version of soccer.
4. Sample the Local Tipple
Tequila may be Mexico's best-known alcoholic drink, but in Oaxaca there's only one drink on everyone's lips and that's mezcal. Still largely produced in the time-honored way, it begins by stripping the agave plant of its foliage and roots, leaving the heart or piña.
These are then baked for up to three days to create the drinks distinctive smokey flavor, before being crushed and fermented. Join a mezcal tasting tour for the full lowdown, or pop into a mezcaleria for a more informal session. But be warned, mezcal is drunk neat and is fiercely strong!
5. Go Back to Nature at Lagunas de Chacahua National Park
Although encompassing only around 50 sqm of the state's coastline, Lagunas de Chacahua National Park is still difficult to knock when it comes to tourist attractions in Oaxaca.
Drifting among the lagoons and mangroves which make up much of the park is to discover the region at its best. Storks, pelicans and spoonbills all call the reeds and rushes their home, while turtles are known to lay their eggs on its shores. And if that wasn't enough, the national park is also one of the last strongholds of the Pacific coast crocodile.
6. Discover More of Zapotec Culture at Mitla
The second most-important archeological site after Monte Albán, Mitla lies in a valley surrounded by mountain slopes. Amid this landscape the Zapotec decided to bury their dead, although the site is better known for its decorative mosaics – found nowhere else in the country.
Consisting of five individual clusters of buildings, Mitla was inhabited right up until the arrival of the conquistadors in the 1600s. It therefore provides a fascinating insight into indigenous culture immediately before the Spanish conquest. Don't miss the Column of Life, said to tell you how long you'll live.
7. Swim at Hierve el Agua
Translating from the Spanish as 'boiling water,' Hierve el Agua is certainly one of the top tourist attractions in Oaxaca. It's probably not exactly what you're expecting, however. Instead of tumbling, frothing water, any visit to the area will bring you face to face with formations that look like water – but are actually solid rock.
Rising to heights of 90 meters above the valley floor, these rare natural phenomena are well worth the trip. This is especially true since at the base of the falls known as the Amphitheater are a couple of pools that are just perfect for relaxation and taking in the scene.
8. Check Out the Local Markets
Each and every village in Oaxaca will have one. But for guaranteed markets, look no further than Oaxaca City. A happy maelstrom of color, noise and aroma, Mercado Benito Juarez takes up most of a city block. Its stalls are piled high with everything from dried chili peppers to freshly-squeezed juices. The nearby Mercado 20 de Noviembre is equally mesmerizing with its mix of everyday essentials and handicrafts making ideal souvenirs.
Offering a magnificent insight into the flora and fauna of Oaxaca, trekking in the Sierra Norte region is a must-do activity for anyone who enjoys getting out into the open air. Dotted with small villages, the mountains are best explored with guides belonging to one of the local cooperatives. With years of experience under their belts, they can marry walks with your level of expertise so that you'll experience days crossing from forest to field, and nights in purpose-built accommodation.
10. Learn the Art of Traditional Weaving
Weaving is a way of life for many of Oaxaca's indigenous people. One of the best places to head to learn the secrets of this ancient artform is the town of Teotitlan del Valle. The air here is filled with the sound of clattering looms as men and women go about producing a staggering array of rugs and shawls. They can be admired (and of course purchased) as part of any stop in the town.
Unmissable Tourist Attractions in Oaxaca
When it comes to the variety of things to do, Oaxaca is a phenomenal place for a vacation. Not only does this Mexican state have history in bucket loads, but also incredible beach escapes and plenty of nature too!