Dia De Los Muertos, Day of the Dead, is a wonderful holiday that honors and celebrates the loved ones who have passed on. From midnight on October 31st through November 2nd, the living reunite with the dead through many different traditions throughout Mexico.
Despite the similar dates, this event is not to be confused with a traditional American Halloween. Day of the Dead's purpose is to celebrate the dead and is based in Mexican and Catholic religions. Halloween on the other hand started as a Celtic Festival to ward off ghosts. Instead of being a somber day only for mourning, the Mexican culture is vibrant and the people are excited to celebrate with one another. They are celebrating that there is an afterlife and therefore get to reunite with their friends and family once again.
This event is celebrated similarly in many different places, even outside of Mexico! In Oaxaca, the locals are welcoming and provide a wonderful fiesta for everyone to enjoy.
Here are some Day of the Dead traditions and vocabulary:
Altars
Every Día De Los Muertos, altars, or ofrendas in Spanish, are created. These are elaborately adorned with pictures and belongings of those being remembered. A favorite food like tamales or a tlayuda beside a cup of wine or bottle of mezcal is popular. Flowers like marigolds, candles, and other decorations are also very common too. Collectively, these are known as offerings.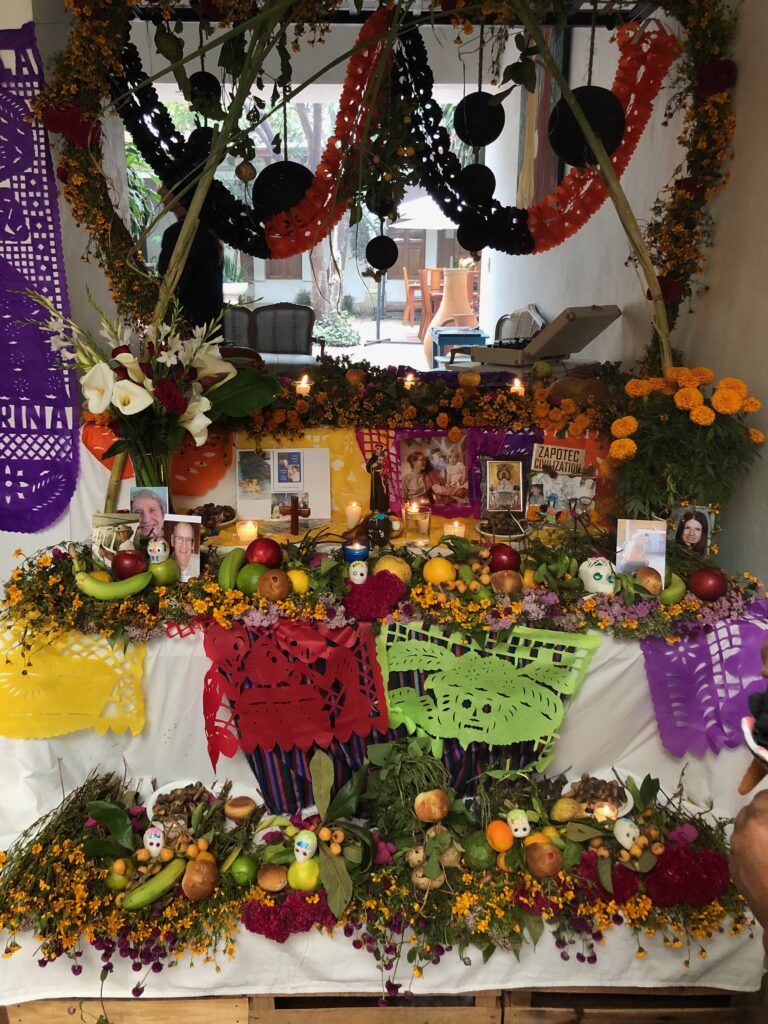 Marigolds
The bright orange-yellow cempasuchitl is known as the "flower of the dead". It's used to decorate altars, graves, trees, and is thought to lead the dead back to visit with its strong aroma. For Day of the Dead, people will dress up and wear the flor de muerto in a headpiece.
La Catrina
Jose Guadalupe Posada drew this beautiful skeleton woman in the 1900s. Other famous artists like Freida Kahlo's husband, Diego Rivera, immortalized this image. With La Catrina's iconic hat and smile, many dress up and paint their faces to match. Mascaras, masks, are also fun to make with bright flowers and intricate details.
Comparsas
These Dia De Los Muertos comparsas (parades) are one of the places where people will join together. Music, costumes, firecrackers, and dancing fill the streets! Big skeleton puppets, mojigangas, can't be missed as they tower over the crowds! These parades and in local cemeteries are where people unite and celebrate during Day of the Dead.
Cementerios
Cemeteries will fill with many different people and families during these days. Leading up to November 1st, they prepare the graves and mausoleums with flowers, offerings, and candles. Then, celebrations, games, music, reunions, and candle-lit vigils follow. On our tour in Oaxaca, we visit local cementerios like the Santa Ana del Valle Cemetery, Huayapam Cemetery, and the San Felipe Cemetery to experience this first hand.
Dia De…
Starting at 12am on November 1st, Dia de Angelitos (Day of the Little Angels) is a special time to reunite with children who have passed. Favorite food, games, and toys are common offerings. Dia de los Difuntos (All Souls Day) includes the adults' souls returning for Day of the Dead on November 2nd.
Plazas
People watching in plazas is one of the best ways to see all of the festivities. From live musicians, face painting, vendors, and street food the culture is alive everywhere you look! In Oaxaca City, Plaza Zocalo Oaxaca and Plaza Santo Domingo are two of the "can't miss" spots!
Papel Picado
This intricate paper decoration is a Mexican folk art that creates a beautiful cut out, perforated, design. Then, these are strung together and hung like banners on altars, homes, restaurants, and along streets!
Alebrijes
Alebrijes are another beautiful traditional Mexican folk art that are chiseled out of wood. These creatures can represent familiar animals and objects while others take on unique features. The wooden figurines then get meticulously painted with bright colors! In San Martin Tilcajete, a small town just south of Oaxaca De Juarez, there are magnificent artisans specializing in this craft. Learn how to make your own in the alebrije workshop on our Day of the Dead tour!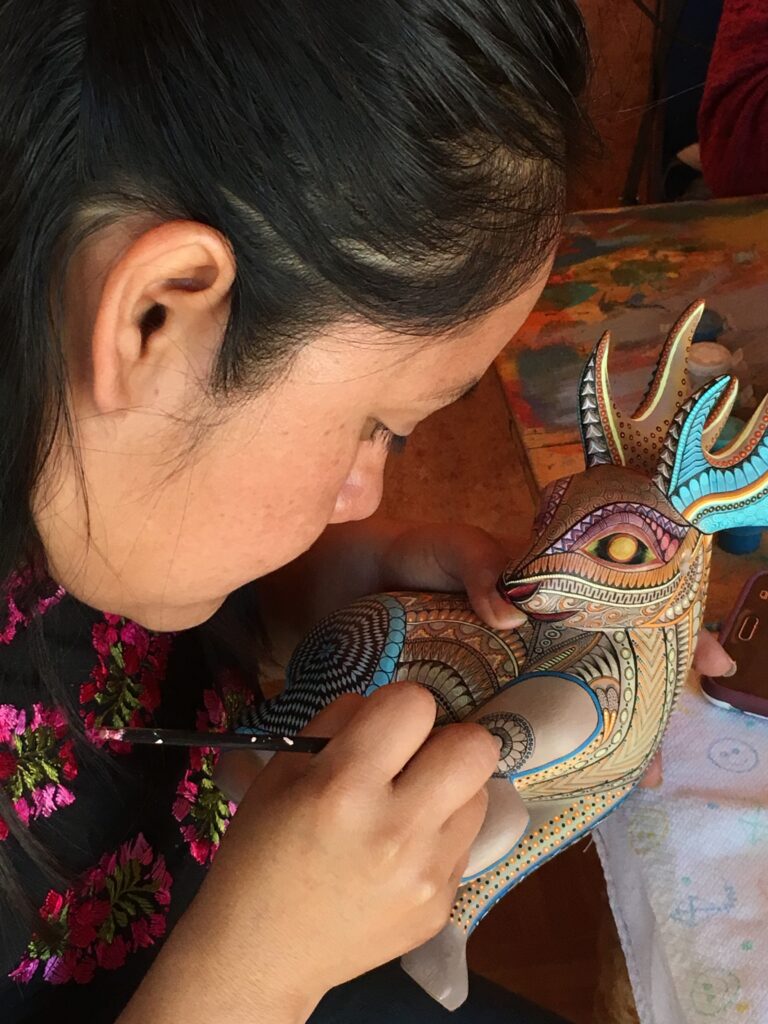 Pan De Muerto
This is a special pan dulce, sweet bread, dating back to the 1500's. Commonly made in the weeks leading up to Dia de los Muertos, it's a delicious treat! It will also get ordained with a small boned-shaped decoration. On its own or with a hot cup of chocolate de agua, pan de muerto is a perfect snack.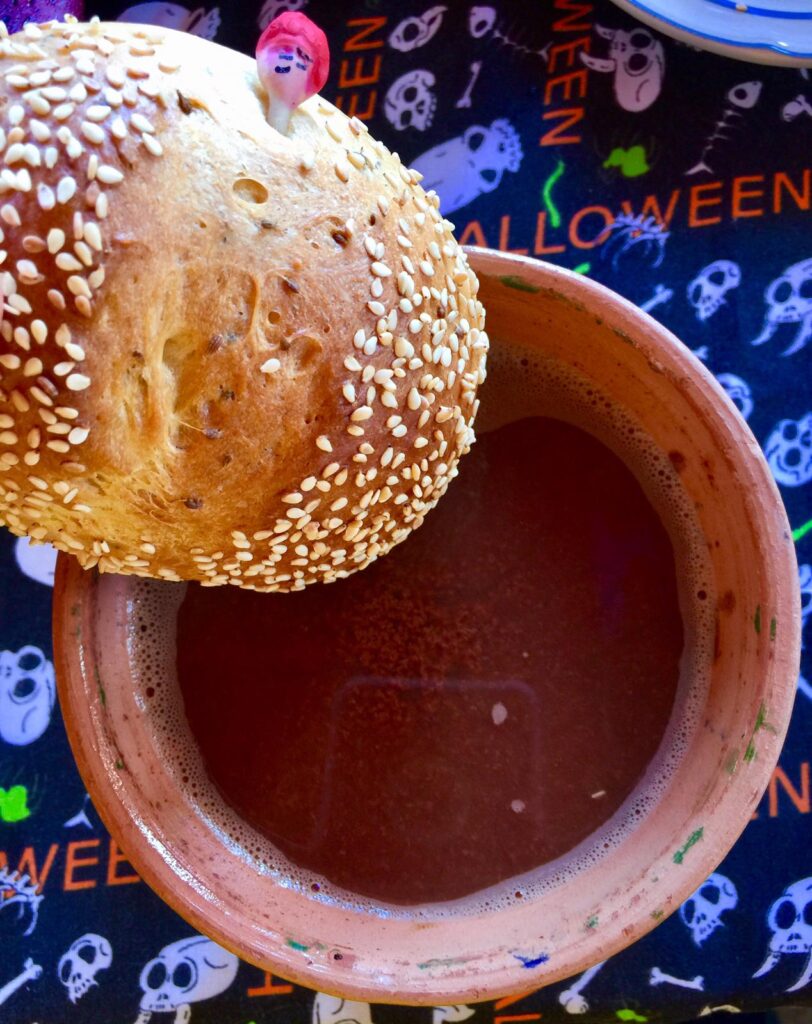 Calaveras
Sugar skulls (calavera de azúcar) are a simple yet colorful decoration. Made from a few common ingredients, pressed into skull molds, then comes the fun! Vibrantly colored icing intensifies the white skull with a personal touch. While they can be eaten, these are mainly used as decorating ofrendas.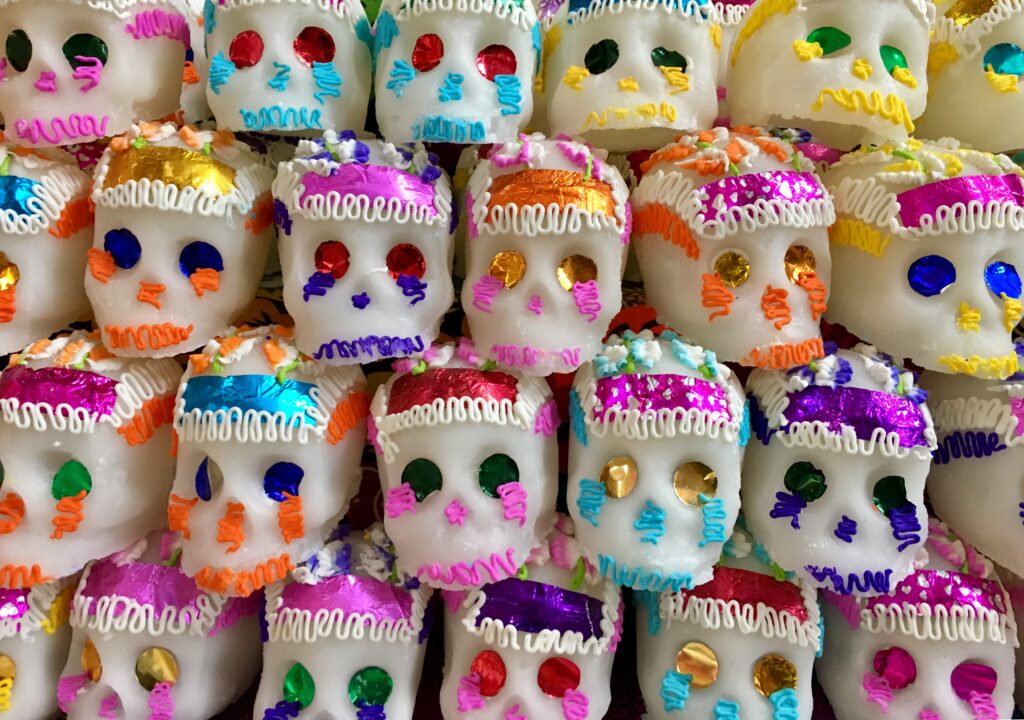 Copal
Copal resin is made from specific endemic trees in Mexico and South America. Their sap dries into a resin that is burned like incense. Smoky, woodiness, and a hint of lemon florals is produced while it's burned on the ofrenda.
Dia de los Muertos has been popularized in the United States and around the globe recently with wonderful movie adaptations of the festivities. Animated ones such as Coco and The Book of Like capture the essence of the holiday while it also makes an appearance in James Bond's Spectre.
Even if you're not in Mexico during this holiday you can celebrate by setting up your own altar, decorating sugar skulls, and remembering those who have passed on. You can enhance the experience even more by cooking some other traditional dishes! Warm up with some hot posole soup or a cup of champurrado or aztole with your pan de muerto. Of course tamales, enchiladas, or anything covered in mole are Oaxacan staples. Finishing a meal off with fresh sopapillas or homemade flan will make you feel like you're really in Mexico!
Day of the Dead is one of the biggest holidays in Mexico and a great tradition to be a part of. Remembering and celebrating the time you had with loved ones means that they will never be forgotten. Let us help you take a one-of-a-kind trip to experience Oaxaca, Mexico's infamous festival.