At first glance Oaxaca fulfills the brief of an archetypal Mexican city, brimming with structures dating from the earliest days of the Spanish conquest in the 1600s. But take a second look at the faces that pass you in the Zocalo main square or delve deeper into Oaxaca culture and you'll find the continued influence of indigenous peoples including the Mixtec and Zapotec. So, what are you waiting for? Come with us to explore all you need to know about the authentic culture of Oaxaca!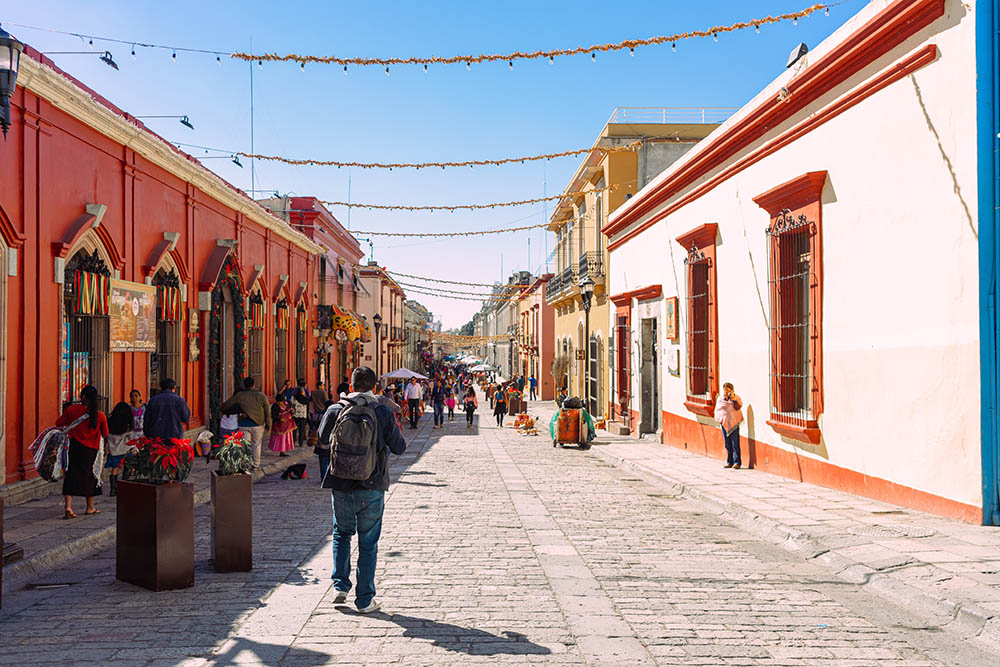 Before the arrival of the Spanish, it was the Mixtec and the Zapotec who fought for control of the region that today makes up Oaxaca, to ensure security of their food supply as well as their communities.
Although both groups of people were a spent force on the arrival of the Spanish, having been absorbed into the much more powerful Aztec Empire, Oaxaca remains the main stronghold for the Mixtec and Zapotec in Mexico. Many living in and around Oaxaca are able to directly trace their ancestry to these two peoples, possibly up to 50% of modern-day residents. Benito Juárez, a Zapotec, was even president of independent Mexico from 1858-1872. You'll find his name across the state of Oaxaca.
The Zapotec language can still be heard throughout Oaxaca, while the art and traditions of both peoples have been incorporated into modern Oaxaca culture in a number of fields, as brilliantly demonstrated in the Oaxaca Cultural Museum, el Museo de las Culturas de Oaxaca.
Religion also continues to play a hugely important role in Oaxacan culture, with the Roman Catholic church remaining a powerful force. A treasure trove of historic delights, even those who don't consider themselves to have faith won't fail to be mesmerized by the grandeur of Oaxaca's green-hued cathedral on one side of the Zocalo.
Equally, no visitor to the city of Oaxaca should leave without making the trip to the nearby Templo de Santo Domingo, constructed by the Dominican order during the Spanish era. Its plethora of carved religious figures is said to contain many stemming from the region's indigenous religions, in this way the people could continue practicing their banned faiths while appearing to meet the demands of their new masters.
There's no better way to get a feel for Oaxacan culture as it stands today than to walk its main streets, interact with its residents, and explore sites that give you a feel for their way of living. 
A spot which fits this bill perfectly is the Mercado Benito Juárez. The city's first marketplace, it lies just south of the Plaza de la Constitución. Join the throngs of people doing their daily shopping to get a slice of everyday life, and be sure to try some of Oaxaca's local foods, from cheeses and breads to specialties such as fried grasshoppers and cactus juice.
There's also a chance to sample some of the region's most-loved dishes (more below) and get your hands on a range of local handicrafts.
The cuisine of Oaxaca is one of the most varied in Mexico. In addition to finding Mexican staples such as tamales, there are a number of tasty regional treats to seek out. Chapulines (fried grasshoppers) act as a crunchy addition to a variety of dishes, including tacos and breakfast eggs.
The tlayuda is a large tortilla coated with a thin layer of pork lard and slices of beef, alongside farm made cheeses and avocados picked locally. This is folded in half between a wire mesh and then cooked over hot coals.
But Oaxaca cuisine is perhaps best known for its moles, or savory sauces. There are various styles with infinite variations, from fresh tasting green moles to the aromatic yellow mole, which gets its color from the chilhuacle pepper and its sweet aniseed fragrance from the Mexican pepperleaf.
With the culture of Oaxaca dating back a millennium or more, there are many important historical relics that contribute to Oaxacan culture. The most important is probably Monte Albán, where stepped pyramids stand on mountains with dramatic views across the area. As such a large pre-Columbian archeological site it takes its place as one of UNESCO's 1000 World Heritage Sites.
Another site is Mitla, where the pyramids of Monte Albán are replaced by the palaces of the Zapotec and churches built by the Spanish over their temples. Possibly dating back as early as 450 AD, the impressive structures that remain act as one of the most important survivors of art, with amazing 'fretwork' and stone friezes in perfect geometric order.
Oaxaca's annual festivals are some of the most fun ways of delving into its culture. A mix of religious and traditional celebrations, they can take place at any time. However, Easter week known as Semana Santa, is one of the biggest, with streets becoming packed with the faithful as large statues of the Holy Family are taken from their churches on the shoulders of men and paraded in public.
July features the Guelaguetza, a festival steeped in pre-Columbian traditions. If you're lucky enough to be in Oaxaca at this time of year, you'll encounter colorful costumes, band performances and stalls brimming with food. It takes place in a specially-built amphitheater at the top of Cerro del Fortin.
While most of the world is focusing its attention on Christmas in the latter half of December, Oaxaca has Noche de Rábanos, or the Night of the Radishes. Shop windows in the center of the city aren't complete without a carved radish, and with nativity scenes popular alongside plenty of political satire. It's also another chance to fill the pinatas and gather with friends and family.
Everything You Need to Know About Oaxaca Culture
As you can see, Oaxaca culture is as complex as the recipe for one of its mole sauces. A dash of people, a spoonful of religion, another of street life, history to taste and a good quantity of festivals combine together to create a destination unique to the world.